Black Hole Quencher检测特异性靶序列的黑洞淬灭探针BHQ-2产品介绍
产品名称:BHQ-2
简介:
BHQ-2 amine is a dark quencher that can beconjugated to target substrates or biomolecules containing a carboxylatemoiety. The BHQ-2 amine is for solution phase conjugations only. We do notrecommend using this product for labeling of peptides and proteins
外观:黑紫色粉末
Absorption Maximum (Lambda Max): 579nm
Storage Conditions: +2 to +8 °C
结构式:
规格:10mg 25mg
保存时间:1年
厂家:西安瑞禧生物科技有限公司
核磁图谱: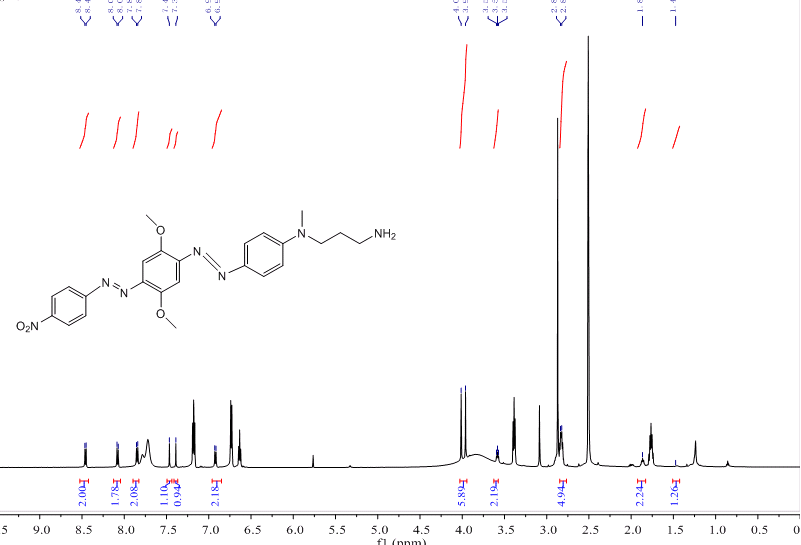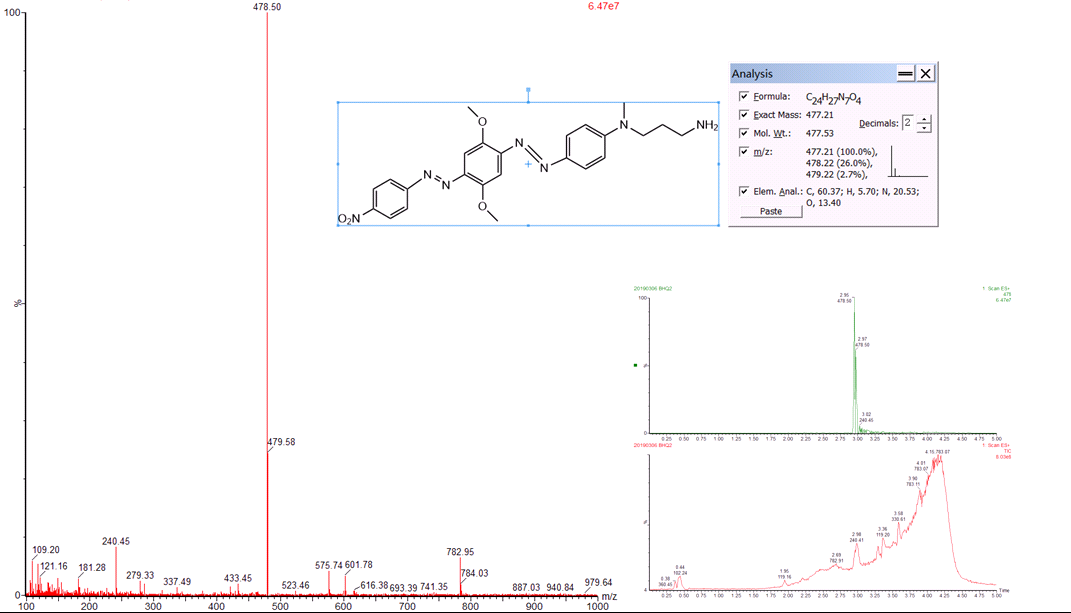 TCL点板纯度测试: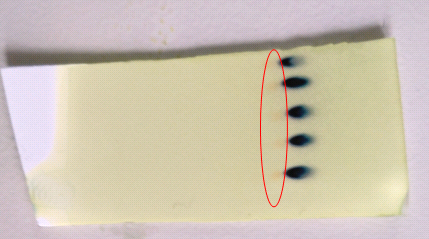 其他介绍:
Two commonly used quenchers, TAMRA™ and DABYCL, limit the ultimatesensitivity and flexibility of qPCR. TAMRA is not a dark quencher and thereforecontributes to an overall increase in background because of its own nativefluorescence. DABCYL, though a dark quencher, has an inadequate absorptionfootprint that overlaps very poorly with reporter dyes emitting above 480 nm (Figure1).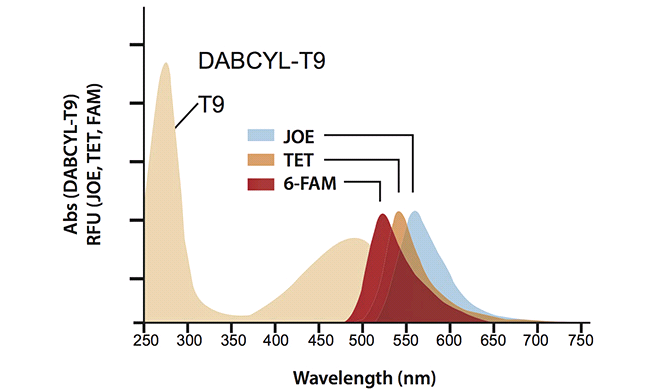 Figure 1. Absorption spectra of DABCYL-T9with the emission spectra of the commonly-used reporters 6-FAM™, TET™, andJOE™. DABCYL was normalized at the poly-T absorbance (260 nm). RFU = relativefluorescence unit.
Though DABYCL works well in Molecular Beacons (structured probes withpaired reporter and quencher that utilize static quenching), its absorptionmaximum of 474 nm places it below the maxima of the reporters shown in Figure1, therefore it is a poor choice forDual-Labeled Probes (linear probes with separated reporter and quencher thatutilize FRET quenching).
Black Hole Quencher 1 (BHQ®-1) (with an absorption maximum of534 nm) is absorbed at higher wavelengths than DABCYL and is directlysuperimposable with the emission maxima of FAM, TET and JOE. This provides asignificant increase in both static and FRET quenching efficiencies, whichmakes it an excellent quencher for Molecular Beacons and Dual-Labeled Probes.As shown in Figure 2, BHQ-1, BHQ-2, and BHQ-3 cover thespectrum from 480 nm into the near IR making it possible to utilize reportersthat emit anywhere in this range.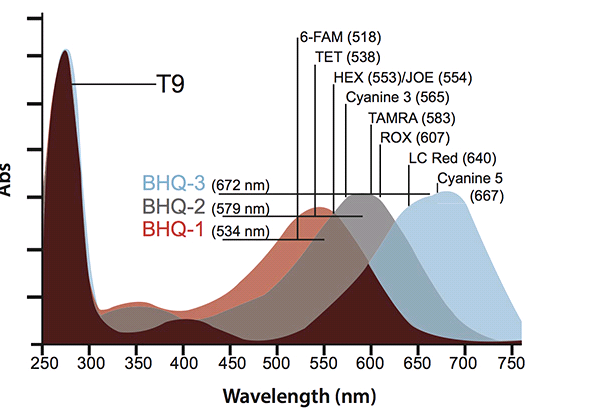 Figure 2. Absorption spectra of the threeBHQ variants (conjugated to T-9 and normalized to the poly-T absorbance of 260nm) with the emission maxima of the commonly-used reporters 6-FAM, TET, HEX™,Cyanine 3, TAMRA, ROX™, LC Red 640, and Cyanine 5.
In addition to better spectral overlap, BHQ probes have much highersignal-to-noise ratios when compared to the corresponding DABCYL or TAMRAprobes (Figure 3).
Figure 3. Signal-to-noise (S:N) ratios werecalculated by dividing the fluorescence signal of a 25mer in the presence of afive-fold excess of an exact complementary target sequence by the fluorescenceintensity of the probe alone.
Finally, as shown in Figure 4,the BHQ variants readily permit single-tube multiplexing due to the increasedvariety of reporters that can be effectively quenched with little or nocross-talk. This simplifies the design, implementation, and interpretation ofmultiplexed assays.
Figure 4. The unique characteristics of theBHQ variants permit flexibility in the choice of spectrally well-resolvedreporters, which enable single-tube multiplexing with little or no cross-talk.
In summary, Black Hole Quencher:
1. has no native fluorescence(emits heat instead of light), resulting in lower background fluorescence
2. has increasedsignal-to-noise ratio, providing higher sensitivity
3. enables a wider choice ofreporters for multiplexing